CrossFit 201 – CrossFit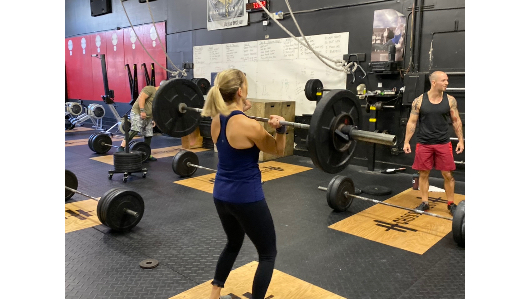 Warm-up
1:00/ side couch stretch

Wrist stretches
2 Rounds

:30 HS hold reach head through (OH barbell hold)

:30 bar hang (try single arm for :15/ arm!)

15 air squats

3/ side – Rope Pullups (or practice gripping rope)

3/ side – Rope Knees to elbows
Technique / Skill Work
EMOM 12 minutes

1) 1-2 Rope Climbs

2) 5- 10 Strict HSPU

3) 250 meter row
*Goal is to work skill and warm up and stay relatively fresh for our benchmark workout Jackie!

*"RX+" is legless rope climbs and deficit SHSPU
Jackie (Time)
For Time:

1000m Row

50 Thrusters, 45#

30 Pull-ups
Good Times for "Jackie"

Beginner: 10-12 minutes

Intermediate: 7-9 minutes

Advanced: 6-7 minutes

Elite: <6 minutes *Time Cap: 12 minutes. Time cap is there to keep intensity HIGH. So scale weight and movements appropriately. I know 45/35 sounds light.. but I need you to pick
a weight where you do this in no more than 3 sets. Keep the stimulus, scale appropriately.