CrossFit 201 – CrossFit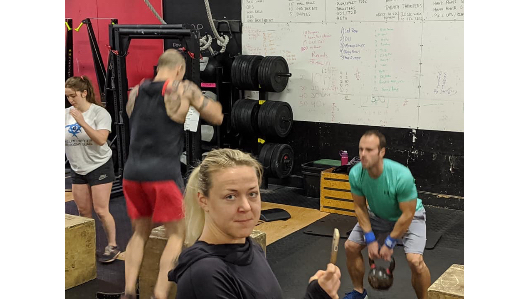 STRENGTH
Push Press (Week 3 of 4)

Complete a few warm up sets, and then:
75% x 5

85% x 3

Few attempts at a 1RM!

*Make sure you don't jerk it! Knees bend for the push and then they never bend again! They only straighten and lock out as your arms lock out.
Optional:

10-15 GHD Sit-Ups between sets

OR

5 Heavy D-Balls Over The Shoulder between sets. Try the 150/100 if you can. Advanced peeps can do 10 if you want a little more sweat going on. I just wanted to throw these in bc we don't get a chance to do these in WODs and it's a great movement.
Push Press (1 rep max)
Metcon (Time)
18 minutes to finish…

50-40-30-20-10

Front Squats RX+75/55 RX(55/35)

American KB Swings 53/35

*1 Rope Climb After Each Set (5 total)
*RX+ is 2 rope climbs after each set