CrossFit 201 – CrossFit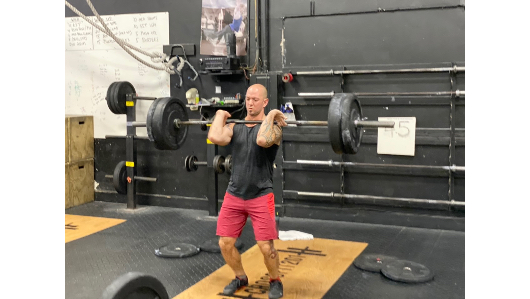 Warm-up
1 minute barbell + wallball T-Spine mobility

:30 pigeon/ side

1:00 Pike Stretch
2 Rounds

10 Warrior Squats

10 Tempo Goblet Squats (32X1)

20 Marching Plank (down, down, up, up + 1 rep)

10 Squat Jumps (with KB)
STRENGTH
Front Squat (Week 2 of 4)

Few Warm-Ups sets

then;

70% x 3

80% x 3

90% x Max Reps! (3+ goal)
*SUPERSET with 20 Russian Twists with the heaviest DB possible. Left + Right = 1 Rep. 45/30lb + DB.
Front Squat (90% x max reps)
Metcon (AMRAP – Rounds and Reps)
16 minutes to get as far as possible…

5 Rounds:

10 Push Jerks 115/75

15 Toes-To-Bar
Rest 2 minutes (You MUST rest. And it's included in the 16 minutes running clock)
Max Rounds in remaining time…

10 Push Jerks (135/85)

15 Wall Balls (20/14lb.)
Score is rounds and reps of just the last section. Everyone will finish the first section.