CrossFit 201 – CrossFit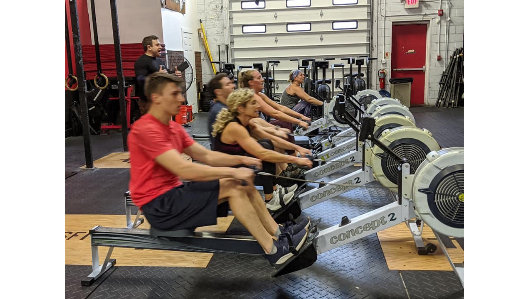 Warm-up
Shoulder Mobility
2 Rounds

1 Minute Row

10 Banded Pull Aparts

10 Empty Bar Strict Presses

10 Barbell Reverse Situps
STRENGTH
Strict Press (Week 1 of 4)

Complete a few warm up sets, and then:
65% x 5

75% x 5

85% x max reps
* In between sets, complete a set of 20 russian twists with the heaviest DB possible. (45/30lb.+)

*REMEMBER that strict press has ZERO knee bending.
Shoulder Press (85% x max reps)
Metcon (Time)
3 Rounds For Time:

30 Russian KB Swings 70/53

25 Push Press 75/55 lb

20/15 Cal Row

15 Toes-To-Bar
*Lock out those push presses for a split second every rep.

Your arm locking out and going straight back down without a pause does NOT count.
*Time CAP: 18min.
*RX+ is an 18 min. running clock with max muscle ups in remaining time 🙂

Put your finish time and then your Muscle up # in the comments.