CrossFit 201 – CrossFit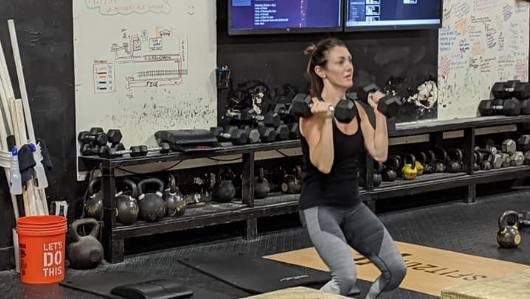 Warm-up
T-Spine mobility
3 Rounds

1:00 machine

5/ side DB Clean & Press

30′ DB OH walk (L)

30′ DB OH walk (R)
*can sub HS walk for the DB walks!
STRENGTH
Push Press (Recovery week 4 of 4)

A few warm-up sets and then;

5 x 40%

5 x 50%

5 x 60%
*In between each set complete 30 Russian Twists with a 45/30lb DB (Left + Right = 1)
Push Press (3×5)
Metcon (AMRAP – Rounds)
EMOM x 8min. (Both in the same minute)

8/6 Cal Row

8 Alt. DB snatches 50/35
Rest 2min.
EMOM x 8min

(Both in the same minute)

7/5 Cal Assault Bike

7 DB Power Cleans 50/35s
I'm really excited to see scores on this one! Score is out of 16 possible rounds. (only count fully completed rounds) Try to pick a rep scheme/ weight where you can finish all the work every minute. Stay close to your station and have fast transitions. You may switch out one of the cardio stations for ski erg if you like, but you have stay there the entire time.