CrossFit 201 – CrossFit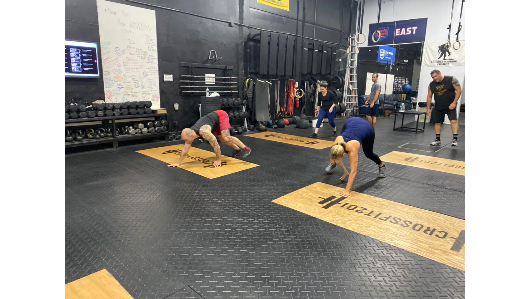 Warm-up
1:00 Puppy Dog Stretch

1:00 Laying Front Rack Stretch
2 Rounds

10 Groiners with reach

10 Scap Pullups

10 Barbell Strict Press + reach

10 Kip Swings

10/7 Bike Calories
Use warmup to see how long it takes for those bike cals.

Looking for :30-:45 max, or scale back to what's doable in that time frame

to keep intenstity high and have some rest between rounds!
Metcon (Weight)
Every 3 minutes x 10 Rounds:

10/7 Cal Assault Bike

10 Pull-Ups

3 Power Clean and Jerks 135/95*
*Rounds 4,5,6, is 2 Power Clean and Jerks as heavy as you can. (While still staying on pace for the workout)
*Rounds 7,8,9,10 is only 1 Power Clean and Jerk. You want to be shooting for some max effort attempts in the end here.
*Scale is just staying at 135/95 the whole time or starting with lighter #s and climbing at your own abilities.
Metcon (AMRAP – Rounds and Reps)
5 minutes AMRAP:

Max Russian KB Swings 70/53lb
Can you go unbroken for the entire 5 minutes? This is actually going to be a fun challenge while lighting up your booty and abs. Be sure to "hinge" while swinging and NOT "squatting."